Our affinity groups
Building bridges between Sanctuary's work and New York's many resources
CAREER ADVANCEMENT NETWORK
The Career Advancement Network (CAN) connects working and retired professionals with Sanctuary's innovative Economic Empowerment Program (EEP). CAN members support EEP by providing an array of career readiness resources and serving as a network for participants and staff.
Karaugh Brown
Co-Chair
Flore E. Baptiste
Co-Chair
CLINICAL ADVISORY COUNCIL
The Clinical Advisory Council (CAC) is comprised of social workers, psychologists, psychiatrists, academics and other supporters of Sanctuary who focus their expertise and interest on Sanctuary's Clinical programming. Members identify and develop resources to support our social workers and advise the Clinical Department.
Dr. Lori Pellegrino
Co-Chair
Brandi Beck
Co-Chair
FAMILY COUNCIL

The Family Council provides parents and children with opportunities to support Sanctuary's work by volunteering together. Members host an annual Thanksgiving celebration, create Mother's and Father's Day Care packages for clients living in shelter, organize clothing drives for infants and children, and plan other kid-friendly events.
Iris Chiu
Co-Chair
Anastasia Danias Schmidt
Co-Chair
LEGAL ADVISORY COUNCIL
The Legal Advisory Council (LAC) supports and promotes the work of Sanctuary's Legal Center. Composed of lawyers, legal administrators, and others interested in law, members participate in regular meetings, pro bono legal work, event planning, law firm relations, and special projects. The LAC also hosts Sanctuary's annual Abely Awards.
Nefertiti Alexander
Co-Chair
Tonia Klausner
Co-Chair
PRESIDENT'S COUNCIL
The President's Council (PC) provides a leadership role for past members of Sanctuary's Board who seek continued involvement in the organization, and other interested individuals. Members of the PC serve as "ambassadors" for Sanctuary and devote efforts to fundraising and advocacy on behalf of the organization.
Stephanie Ferdman 
Co-Chair
William F. Gorin
Co-Chair

President's Council members are invited at the discretion of the Board.
PRO BONO COUNCIL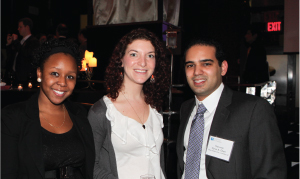 The Pro Bono Council (PBC) engages young professionals in serving Sanctuary's clients and ending gender violence. PBC members provide pro bono legal representation in connection with Sanctuary's Legal Center and plan children's events, special service projects, and in-kind drives. The PBC also hosts Sanctuary's annual Above & Beyond Benefit.
Victoria Abraham
Co-Chair
Sharon Barbour
Co-Chair